Knitting Knight
Last night was knitting night with the girls. Ami and Carol come over each Tuesday and we knit and chat (sometimes there's more chatting than knitting). Ami seems to always be working on something new, a hat, socks, a cute little baby sweater, scarf, etc. She is a very prolific knitter! Up until recently Carol had been very dilligently working on the same scarf that she started in March at the knitting class we took together. This week though, she showed up with a thrummed mitten half-way done (with perfect little thrums I might add) and a black scarf with perfect stitches; no extras, no holes, perfect. I am suspicious that she has been playing us this whole time and will soon be cranking out garments like an 80 year old grandmother. We're watching you Carol.
I unfortunately had a very unproductive evening. No more wine at knitting night, that's for sure (I keep wanting to type knitting knight. We should start calling it that.) it really slowed me down. Although, it still seems to be affecting me. I started knitting
this
scarf that Ami pointed out to me for the birthday girl on Friday. However, I cannot seem to do it properly!! I never have the right number of stitches, even though I am sitting here in the quiet with no TV, no cats, no husband, no CBC, nothing. I fear I am not smart enough for this. I sure am stubborn enough though! I won't stop until it's done (insert maniacal laughter).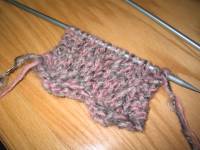 On a completely different note, I thought I should post some of the blogs I read. Someday when Lisa and I have taken over the world our blog will have a little bar at the side where we can list all of the blogs we read (ya, I know, we probably could have that now but I just haven't taken the time to figure out how). For now, here are some of them:
yarn harlot
(for obvious reasons if you have read her),
the amateur gourmet
(Lisa introduced me to this one and I got hooked on his 'survivor' challenge),
Rebecca's
blog (which is usually quite amusing), and of course,
c's
blog. That's a pretty pathetic-sized list now that I look at it, but I really should get some work done now.